Portfolio
BananaDesk
2014-Present
In this Property Management System, the main problem of the product was the onboarding of new users. That's why one of my first proposals was to simplify the steps to create room types (categories) & rooms to connect to the sales channels.
Later I promoted the adoption of the Mobile First mindset, to integrate user workflows outside the reception.
This new approach allow us to serve our customers in more contexts.
That allowed us to improve product's general structure, facilitating most frequent tasks.
We also took advantage of this technology change to refresh the visual style.
Although I stopped working with them leading the product design and CSS architecture, I still help them on a freelance basis.
Croptrak
2019-Present
In 2019, I started working remotely at Croptrak with their product for the agricultural chain.
At first, I had two big challenges:
Consolidate the style of the product: many different libraries were used, such as Boostrap or DevExtreme. Today everything feels similar, we have a design system in place.
Accelerate development: hacking the libraries to fit the product created new problems (infinite specification, inconsistencies in the product, duplication of development).
I promoted a new CSS architecture, adding Sass (to have mixins), and a lot of modern CSS (Custom properties, Flexbox, Grid, etc.)
I did the same with Javascript: I passed a lot of layout work to CSS, and encouraged the reuse of the code already developed (as components).
After consolidating the product style and frontend architecture, I started working on product strategy.
Croptrak is a complex application, serving the needs of multiple types of people. That's why we have developed tools that need a lot of work to be used in the best way.
The goal is to simplify as much as possible the interaction of customers with the application.
Although at first I started working only in the web application team, after a few months I also advised and designed navigation flows and structures for the different native applications.
It's the first time that these different applications start to look and behave in a similar way.
Side projects
Destino Reta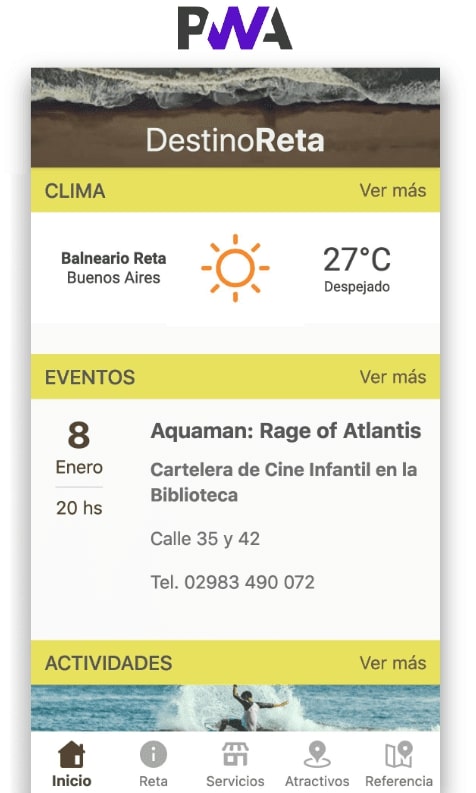 As I work professionally in the software field, my brother asked me about developing a native application to promote the rest village where he lives.
But because of the cost of creation and maintenance it no longer made sense to do something native. And beyond interface design, I know nothing about native apps (you know, programming in Java, Kotlin or Swift).
As I understood that it was a need that could be satisfied with a Progressive Web App (with features like "installability", offline mode, etc.), and my knowledge of web development was enough to learn and develop what was needed in 2 months, I proposed to do it this way.
Although I still have some issues to solve (in maps, the checkboxes to select several layers don't work well), and a lot to improve at a programming level, Destino Reta is a reality.
You can install it right now. Or Add To Home Screen, in terms of iOS.
User Interface Design repository
Following the idea behind "awesome list" repos, in December 2017 I started a new one on the topic of UI Design.
In the end, there were too many requirements to be listed on the Awesome's main list, so I decided to do something else.
Although I have pending to make it an independent site with features such as filtering and search, offline mode or other ideas, the repository is online with its more than 380 stars and 400 commits.